Top 7 Reasons Healthy Lifestyle Today -Women Consultancy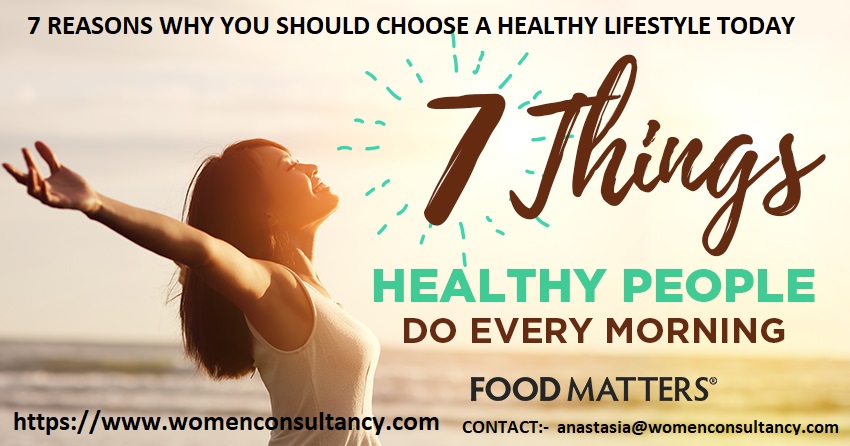 Firstly, WHY NOT?! Why do you prefer to fuel your body with stress, lack of sleeping, junk food, alcohol, cigarettes, WITHOUT workouts, morning exercises, gymnastics, weights… Lazy? Maybe from Monday? Maybe from the 1st of next month? Maybe when you get a partner? Maybe yes, maybe no.
Ready to hear the truth?? Whatever your answer is to the above, it is all summary of your excuses and stories of why so and so it's difficult, expensive, time-consuming, difficult, not possible, etc. Stop right here, inhale and exhale, look at yourself in the mirror, look deeply into your eyes, what do you see there? Most often we see the reflection of tiredness, unhappiness, self-sabotage, self-hate, and lack of inspiration. Why do you do this to yourself? We live this beautiful life once and you should make maximum out of it every single day.
7 Rocking Reasons to start your healthy life journey:
1. Once you say "no" to so-called "bad stuff" you would find yourself glowing like a power bank
2. Your mental health would be stable as a rock, it wouldn't be easy to playout your mood
3. Your skin game would be taken to a new level: less pore, dark circles,  wrinkles, less acne and pimples, less cellulite and stretch marks, and fewer burst capillaries. Your skin tone would look fresh and fabulous without any BB & foundations!!! Isn't it amazing to be healthy just for this one?!
4. Having a proper bedtime without insomnia and you literally would sleep as a baby born
5. You would be grounded and willing to live wisely
6. Exercising, workouts, jogging, meditations, yoga, hiking, bicycle, etc. would become your new hobbies without an inch of punishments
7. Regular biological effusions that are a big item in our health cycle
As sooner you realize the importance of implementing and following a healthy lifestyle, the better for you and your well-being. Your energy level, creativity, clear head thinking, and enthusiasm would be just above the sky, you would be limitless with your capabilities, and consider this as an investment for your longevity!
Related Blog Post:-
ONLINE PERSONAL TRAINING PACKAGE
LOSE WEIGHT & HEALTHY LIVING FOOD
3 STEPS HOW TO LOSE WEIGHT AND NOT LOSE YOUR MIND?
MINDFUL EATING IS A PART OF MINDFUL LIVING
Promoted By- ACME INFO LABS